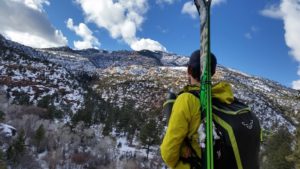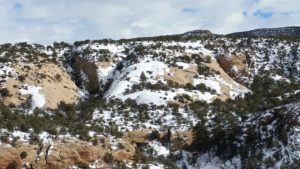 Skiing the Slopes
Nestled next to the northern slopes of the Abajos, and overlooking Indian Creek, is a lone mountain rising just above 9000 feet. The east side of it looks like the beehive on the Utah flag but with large grooves carved into its base, like a large bear had clawed at it leaving deep gouges on its flanks. Running at the base from south to north is Indian Creek proper; the creek has cut away at its base creating a mote on the east side. It's not the height that gives this "Monticello" (little mountain in Italian) its beauty; it's the diversity that surrounds it and is upon it. The base of the mountain starts in low desert country where sagebrush mixes with red rock and sand, mid slope is the pinion, juniper forest blending with cactus and yucca plants. Higher up is the oak, which creeps into ponderosa and aspen stands, Doug Fir and blue spruce crown the top.
There is an old jeep road that goes to the top of the mountain, my dad would drive up it in high school but it has long since been closed trucks or jeeps, however a quad and some concentration can get you to the top. In between the deep bear claw grooves is a sand stone ramp. It has always reminded me of the ramp the Romans built to take the Masada (a Jewish hill top fort). One summer I got ambitious and crossed the mote with my bike on my shoulders, stormed the ramp and proceeded to get my butt kicked by the thick oak brush defenders mid slope. I made the summit and enjoyed a grim, bone-jarring ride down the old road. Being on the sand stone slopes of the mountain was a surreal experience. Below me a red rock canyon, above me an alpine environment; and this open sand stone ramp connecting the two, I knew then I needed to ski it, after all how many places can you ski sand stone slopes.
Old man winter has been kind to us so far this season. I knew to ski the Masada ramp it would need ample snow coverage but the powder was too good to pass up on the Abajos, and I neglected the ramp when it was probably in its prime. Early January I decided to give it a go anyhow. I lucked out and could drive almost to the edge of the canyon mote, saving me hours of approach time. Dropping into the canyon proved pretty easy, with some smaller ramps still covered in snow (the snow actually stuck to the sand stone fairly well) Still, the skiing was sparse and after some side stepping I sheathed the skis and booted it across and to the base of the ramp. The snow was sparse and none existent in some parts. I encountered some fourth class scrambles that made me feel awesome, and I was grateful for the lightweight ski boots and copious amounts of ankle articulation provided by the Dynafit TLT6 boot.
Ski with Roam
 

Once on the ramp I could put the skis back on and skin through stunted pinion juniper forest. With some areas having from two feet to two inches of snow, this little outing may not be kind to my skis. About the time I reached the upper most part of the ramp a storm started blowing in. I got a little worried that my truck with no winter weight in the back might get stuck and give me a ticket for a long skin back to a plowed road, so I ditched the skins and headed down. The skiing wasn't powder or epic, it was stressful. Dodging bare spots and twisted roots creeping across the rock and, getting bucked by deceiving wind formed pillows was unique and uniquely satisfying. Getting back down to the canyon bottom was a bit more exciting. I kept thinking of a ski film I watched where this Austrian was skiing down a mountain with an imposing rock girdle. He was down climbing rock with his skis still on and kept saying, "I'm not taking my skis off, not me!" He made it down okay. With those words running through my mind I decided to keep my skis on as long as there was some snow. I managed to get down with out destroying my skis or myself.
Upon crossing the creek I opted to take a short cut through flora and fauna hell. Sometimes I'm just dumb. My wonderful short cut led me to a sandstone wall flanked by even bigger flora and fauna demons than previously encountered. I grew up climbing and scrambling the pathetic excuse of a rock (sand stone) of this area and felt comfortable leading out on a lower angle slab. Slab climbing is hard in ski boots, even the awesome boots I was sporting. The only reason I kept climbing out this way was the thought that cheese grading down twenty feet of sand stone was still the better option than going fisticuffs with Satan's houseplants. After a few more tricky rock bands I was back on top and skinning to the truck. The storm held off and I drove out fine, promising the sand stone slopes that I would be back… I'm not sure why.
Post sound track
Guns N' Roses- Paradise city    
Posted on