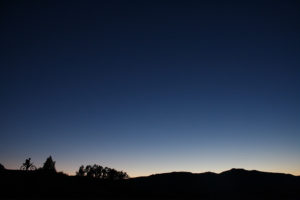 Birthday's have always been about the weekend. An awesome, radical adventure with the best of friends; great food; and getting outside. True birthday weekenders are a dying breed as with each aging year the weekending becomes less and less of a priority with life's other "priorities" taking the front seat. The one night, 2-hour dinner meet up with friends doesn't quite satisfy the quench. There's a feeling with each coming year to prove you've still got it, you've still got what it takes to push yourself that extra mile, to do something to top off year's past. Birthday weekends are the time to celebrate and start your next year of life with a bang of bad-A-ness.
We got lucky with this one and TK was all gung ho to get out of the city with us. We got off to a little later start than expected, surprise, but it ended up being perfect night riding desert conditions–yes, it is still February. We rode through the night following the spiraling road leading up to Jacob's Chair until we found the perfect soft sandy spot to lay our bivy's. We woke to views of canyons as fas as the eye can see and in a bed of petrified wood chips. The ride ended with the final ascent to the base of Jacob's Chair and masterminding plans for future climbing lines. Of course the descent was the sweet
reward and end to a quick desert bikepacking escape. Cheers to another year TK!
Posted on